Men's Everyday Belts - Stitched and Basket Weave

Dress Belt Line Up for Men and Women
Men's Everyday Belts - Stitched and Basket Weave
Dress Belt Line Up for Men and Women
Featured Product Line - Leather Belts - USA Made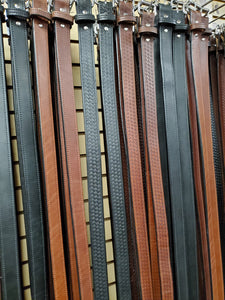 If you have ever said, "it's so hard to find a good belt," you have come to the right place.....
Our customers are always impressed with the quality of our belts and holsters and the service FHL provides. We offer a lifetime warranty on the products we make and we are proud to be USA made! We are excited about our new dress belt colors for men and women. We hope you love them too! Don't see what you are looking for? Contact us, we'll do what we can to meet your needs!
RETAILERS - wholesale accounts still available in some regions with minimum order quantities and rebranding opportunities.
Call Howard at 248-890-0960 or Ivan at 248-891-7072 for assistance and questions.
FHL Contact Info
24047 Research Drive
Farmington Hills, MI 48335
farmingtonhillsleather@gmail.com
Hours by Appointment Only
248-894-0960